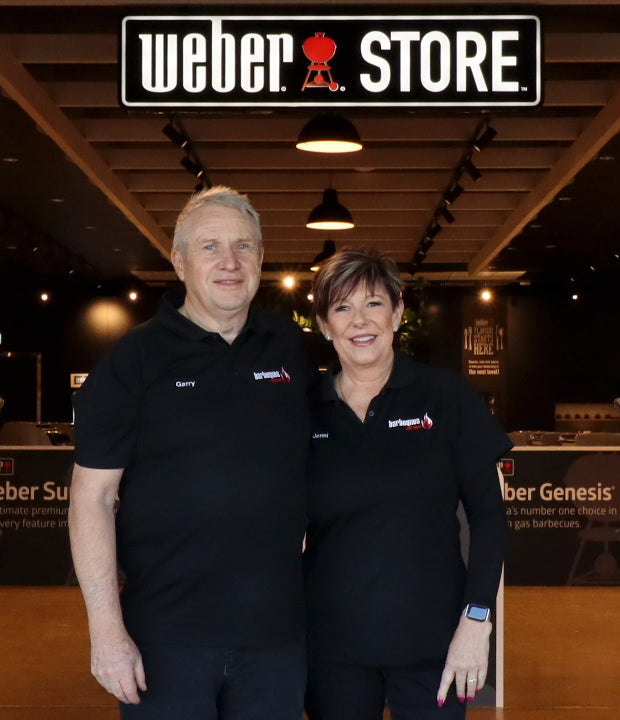 A LITTLE ABOUT US
Barbeque's and More are a family owned business operated since 2001 by Garry and Jennifer McFarlane.
We pride ourselves on having the knowledge and experience to help you the customer buy the product that best suits your lifestyle and budget.
Weber now has a wide range of quality products from portable gas and charcoal, full range of Premium gas, the famous Weber kettle range, the famous Weber Q range, Electric Barbeque's, Kamado style charcoal Barbeque's, pellet grills and a range of outdoor kitchens. To back this all up an extensive range of accessories is available and Weber's warranty and after sales customer service is second to none.
We also stock a range of outdoor furniture, fire pits both wood and ethanol, wood fires and a growing range of rubs, sauces and accessories to cater for all your Barbeque needs.
We also carry the range of Yeti products including mugs, bottles and coolers.
We have three outdoor kitchens on display and can sit down with you and plan the ideal outdoor kitchen to suit your entertaining area and can arrange finance if that is also required.
We also have the ability to cook in store and show you how to operate, clean and even cook on your Barbeque. Keep an eye out for cooking demonstrations and master classes that we hold regularly.
Come in and meet our friendly team and talk about your next Barbeque experience or just browse the range of products we have.
We look forward to seeing you at Barbeque's and More – Weber Store very soon.